Herding Dogs
Our border collies are an integral part of life here at Stoneheart Farm. Without them, we could not do what we do and, even if we could, it wouldn't be as much fun. There is a nonstop rhythm of feeding, rotating pastures, loading, unloading, sorting, weighing and moving sheep down the road and it is the dogs that make this clock tick. Suffice it to say, if we couldn't have the dogs we wouldn't have the sheep! Besides the work that they do, they bring an immense amount of joy to us and it is hard to describe the bond that occurs between working dogs and their human partners. Yes, these dogs work their butts off for us but at the end of the day, they are family!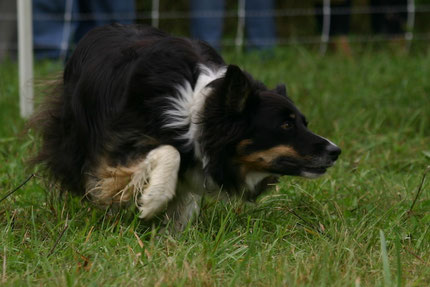 Gwen:  born August 7, 2008
This girl means business. Gwen has a lot of quiet power. She can work in tight spaces and get the job done without muss, fuss or commotion. She will hold her ground with the nastiest of rams and only resort to force when asked to or to defend herself. John refers to her as "Old Faithful", his "Cruising Car". She never surprises you unless it's your birthday. She is not all gushy in a crowd but she is John's best friend and it is a bond that can not be broken on earth. She is the definition of the faithful loyal companion.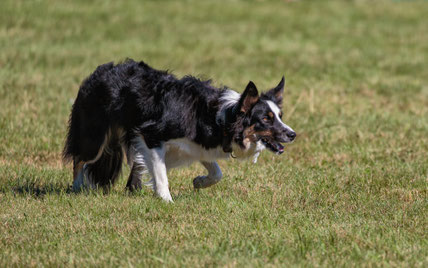 Bea:  born January 26 2013
She defines "full throttle". Bea gives it her all - all the time. Whether it's work, play or just "girl time" she is "All In". She works with a high level of intensity and her vocabulary does not include the word "quit". She is a lot of fun to work and a joy to live with. She lives to work and loves to live. She doesn't tolerate the status quo and has a knack of making things happen. John says that she is his sports car - hang on - it's quite a ride.
Herding in Heaven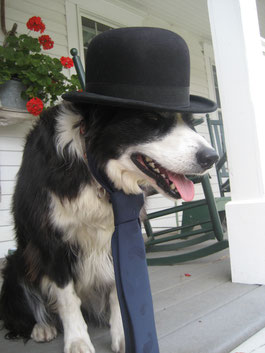 Tess:  2003 - 2013
She was #1. Tessie christened our maiden voyage into the crazy world of working border collies. John started with a book, a dog, some sheep, and the sheep didn't like the dog. Together they worked hard, taught each other and eventually figured out what this herding thing was all about. She was patient and seemed to understand the shortcomings of the human with the crook. She liked to work but seemed to enjoy other things equally - a renaissance dog if you will. If she wasn't working, her top priority would be having fun with anything that involved an engine. She worshiped the internal combustion engine. She would ride for miles on the snowmobile, sit for hours in the steel bucket of the tractor while raking hay in the hot sun, or wait patiently while John cut trails through the woods so the family could snowshoe and ski. Her demands were simple - take me with you and let's have some fun. Tessatina - rest in peace.
Herding Demonstrations